The small-screen adaptation of Margaret Atwood's disturbing dystopia remains intensely frightening, fleshing out its fascist theocracy with an extraordinary Elisabeth Moss at the center
After its formidable first season debuted in spring 2017, the small-screen adaptation of Margaret Atwood's The Handmaid's Tale rode a wave of timely, Trump-era resonance all the way to Emmy awards glory, securing victories for best drama, directing and writing, as well as most of the acting awards. That a series as grim and unforgiving as this one could pull off an awards-season sweep spoke to how felicitous its timing was, premiering as the then months-old Trump administration was kicking into high gear.
The resistance, too, was beginning to crystallize, and the image of handmaids in blood-red robes and white vision-constricting bonnets became totemic, a kind of pop-political call to arms. At anti-Trump demonstrations women sported the shapeless handmaid's cloak, suggesting wokeness or political dissent.
In Gilead, though, the theocratic hellscape that was once America, such displays of female solidarity are fraught with peril, resulting in countless zaps from a cattle prod, brutal torture, or hanging. For Elisabeth Moss's June, who at the end of season one defiantly refused to stone a fellow handmaid, it meant a ride in the back of a black van. We didn't know where it was headed – Atwood's classic novel ends at the same mysterious juncture, with the line "into the darkness within; or else the light" – but the purposeful ambiguity paved any number of roads for the show's second season.
The van was headed, we find out in the opening sequence, to Fenway Park, where weeds have sprouted on what was once a baseball diamond and gallows await the dissenting handmaids. To the haunting tune of Kate Bush's This Woman's Work, the scene lasts an excruciating eight minutes, which felt more like the length of an entire episode. But, it prepares you psychologically for what follows, which is gloomier, harsher and more frightening than season one.
For most women living in Gilead, where fertility has become a national resource, handmaids are systematically raped by their commanders, and "unwomen" are sent to clean up nuclear waste in the "colonies", the prospects for salvation have never been lower, which makes for an utterly joyless viewing experience. And while The Handmaid's Tale remains impeccably made and extraordinarily acted – with Moss once again turning in the single best performance on television – to give the show a ringing endorsement would be dishonest. Not so much because it bears a jarring resemblance to the current administration – if you watch the show, you'll know the putative links are overstated, as race is almost never addressed – but because it's so unrelenting in its presentation of familiar spaces, like Fenway or an old, run-down school gym, as sites of torture and oppression.
Those sites are often shot aerially, referencing the "eye" under which the handmaids live. Like it did in season one, so skillfully directed by the since-departed Reed Morano, the show emphasizes monochromatic coloring, sharp angles and visual order. It also seems that showrunner Bruce Miller has doubled down on what Susan Sontag, in an essay on the director Leni Riefenstahl, once called the "fascist aesthetic", in which "the relations of domination and enslavement take the form of a characteristic pageantry". The Fenway Park sequence evokes this idea, with attention paid to patterns of movement, as do the scenes in the colonies, where the "unwomen" are brutalized by Gileadean martinets in chem suits and gas masks, calling to mind the post-apocalyptic horror of George Romero's The Crazies.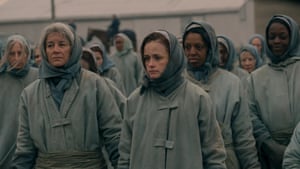 By showing us the colonies, which were alluded to in season one, the show has considerably expanded its scope. There, Alexis Bledel's Emily, who was subjected to a forced clitoridectomy in season one, spends her days digging through radioactive waste. Bledel is once again brilliant, as is Marisa Tomei (in a single-episode cameo) and Ann Dowd's Aunt Lydia, a true believer who lectures the handmaids about the difference between "freedom to and freedom from". We also get glimpses of Luke and Moira (OT Fagbenle and Samira Wiley), June's husband and best friend, both refugees living in Canada.
Having exhausted Atwood's source material (although the author consulted on season two), The Handmaid's Tale is now a broader, more menacing, and slightly less hamstrung show, bringing into the fold Gilead's many other mechanisms of tyranny. We also see, in a series of expository flashbacks, how Gilead came to be, but these sequences are less successful, reading almost like clarion calls to today's resistance. While it's true the series was given a boost on account of its fortuitous timing, that's not where its power lies. Instead, what is most striking is the way it's both intensely unenjoyable but unquestionably worthwhile, an artistic achievement that altogether reinvents what it means to hate-watch.
Originally published in the Guardian – 26 April 2018.
The Handmaids tale – Season 2 is on SBS on Thursday nights at 9.00 p.m. and on SBS view by demand.